Perth Youth Orchestra is in its 60th year. Founded in 1962, by two Perth musicians, Louis Barnett and John Davie, with the support of a small number of parents, it gave its first concert on 25th June 1964. The orchestra is a registered charity in Scotland. PYO is sustained both by the young players desire to excel and by their determination to succeed.
The orchestra rehearses each Monday evening in the Music Centre at St John's Academy, Perth, from October to April, and it is well supported by Perth and Kinross Council. Perth Youth Orchestra is a registered charitable organisation and the funds it raises help to support the purchase of instruments and musical scores, as well as the services of its conductor and instrumental tutors at rehearsals and concerts- at the Perth Festival of the Arts, the Edinburgh Festival Fringe, in Glasgow at the Royal Conservatoire of Scotland, and in a variety of concerts throughout the year at home and abroad.
In July 2013 the orchestra celebrated its 50th anniversary with a concert tour to Tuscany performing at the Florence Festival of Youth Orchestras. In July 2016 the orchestra performed several concerts in Prague - full details can be found in the Tour Blog.
Parents of young musicians in Perth and Kinross are always impressed by the provision of the many Central Music Groups. But Perth Youth Orchestra is much more than just another Central Group. With the support of the Friends of PYO it has provided the opportunity for generations of the best young orchestral musicians in the area to play challenging and exciting music from the concert repertoire, performing not only in Perth but elsewhere in Scotland, and also on tour, most recently to Germany and Italy, and before that in Poland and Estonia.
Admission to the orchestra is by audition, usually in September. All members can take pride in their own ability, and learn and develop their skill while expanding their knowledge of different composers and musical styles. Many former members have gone on to make illustrious careers as performers – more details are on the website.
Putting on concerts, hiring music, purchasing, insuring, and maintaining instruments, and of course organising tours, costs money, and the orchestra has an annual turn-over of around, in non-tour years, of over £8000. It is a charitable trust run by a committee made up of the Friends of Perth Youth Orchestra including the conductor, Mr Allan Young, parents of current and former members, instrumental tutors, and orchestra representatives. We are grateful to several generous sponsors from the local area, and fund-raising by the orchestra is an important and necessary source of income, especially as we start to look forward to the next concert tour, in the summer of 2019.
On joining the orchestra, families were asked to pay a fee to Perth and Kinross central groups. Membership of the Friends of Perth Youth Orchestra is an additional cost (£30) but the benefits it brings are very worthwhile
"Their achievement was astonishing – cutting edge – the real thing
Michael Tumelty – The Herald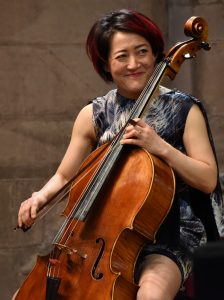 Our Patron-in-Chief
Su-a Lee, the orchestra's Patron-in-Chief, was joined by Matt Hardy and the pupils from Kinross High School's Chamber Group as they gave their services free at a concert in aid of PYO Tour Funds on Sunday 24th April, at 3pm, in St John's Kirk, Perth. The 80-strong orchestra is in the final stages of preparation for its Concert Tour to Prague this summer and the funds will go towards the cost of transporting their instruments and other equipment.
Su-a is an energetic, enthusiastic and effervescent cellist, passionate about encouraging and supporting young musicians. She is a co-principal cellist with the Scottish Chamber Orchestra and a founder member of the McFall Chamber, a group that she helped to form which aims to create new audiences, new music and new directions in music. The group was described recently as 'the Jewel in the Scottish Musical Crown' - (Scotsman) and has just been nominated for a 2016 Royal Philharmonic Society Music Award.
Joining Su-a on the platform in St John's Kirk was Matt Hardy, principal percussionist from the SCO, who accompanied her on a 5-octave  marimba.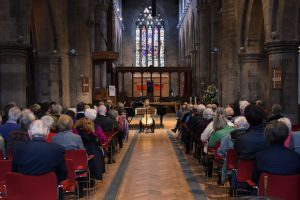 There was opportunity to meet and chat with Su-a during the interval before Kinross High School Chamber Group, formed by players from Perth Youth Orchestra and directed by Sharon Doyle, performed a Vivaldi Concerto as well as music from 'Phantom of the Opera' and 'Food Glorious Food'.  Lorna Doyle (cello), a student at St Mary's Music School in Edinburgh gave a masterly recital of the 1st movement from the Shostakovich Cello Sonata Op.40 .
Audrey Doyle (violin) gave a thrilling and assured account of Mozart's Violin Sonata in E min and Cally Evans (violin) delighted the packed church with Massenet's Meditation from Thais.
The accompanist was Rosanna Young-Kudelska, a former leader of Perth Youth Orchestra.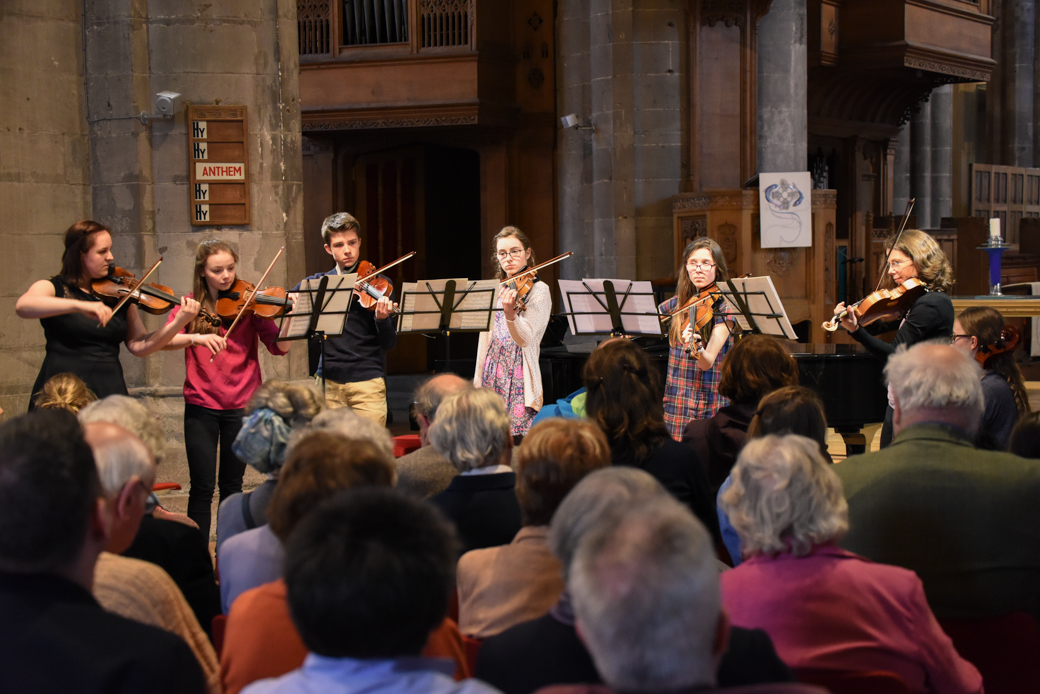 VIDEO - Audrey Doyle (violin) - Mozart Violin Sonata in E min
<P>CERTIFICATE OF
EMPLOYERS' LIABILITY INSURANCE </P>
<P>(a)
(Where required by regulation 5 of the Employers' Liability (Compulsory Insurance) Regulations 1998 (the
Regulations), one or more copies of this certificate must be displayed at each place of business at which the
policyholder employs persons covered by the policy.) </P>
Policy Number: CCP 2209145</P>
<P>
1. Name of policyholder:
TFTTB Perth Youth Orchestra
</P>
2. Date of commencement of insurance:
<br> <br>
3. Date of expiry of insurance:
We hereby certify that subject to paragraph 2:- <br>
20th June 2019-20th June 2020
<P>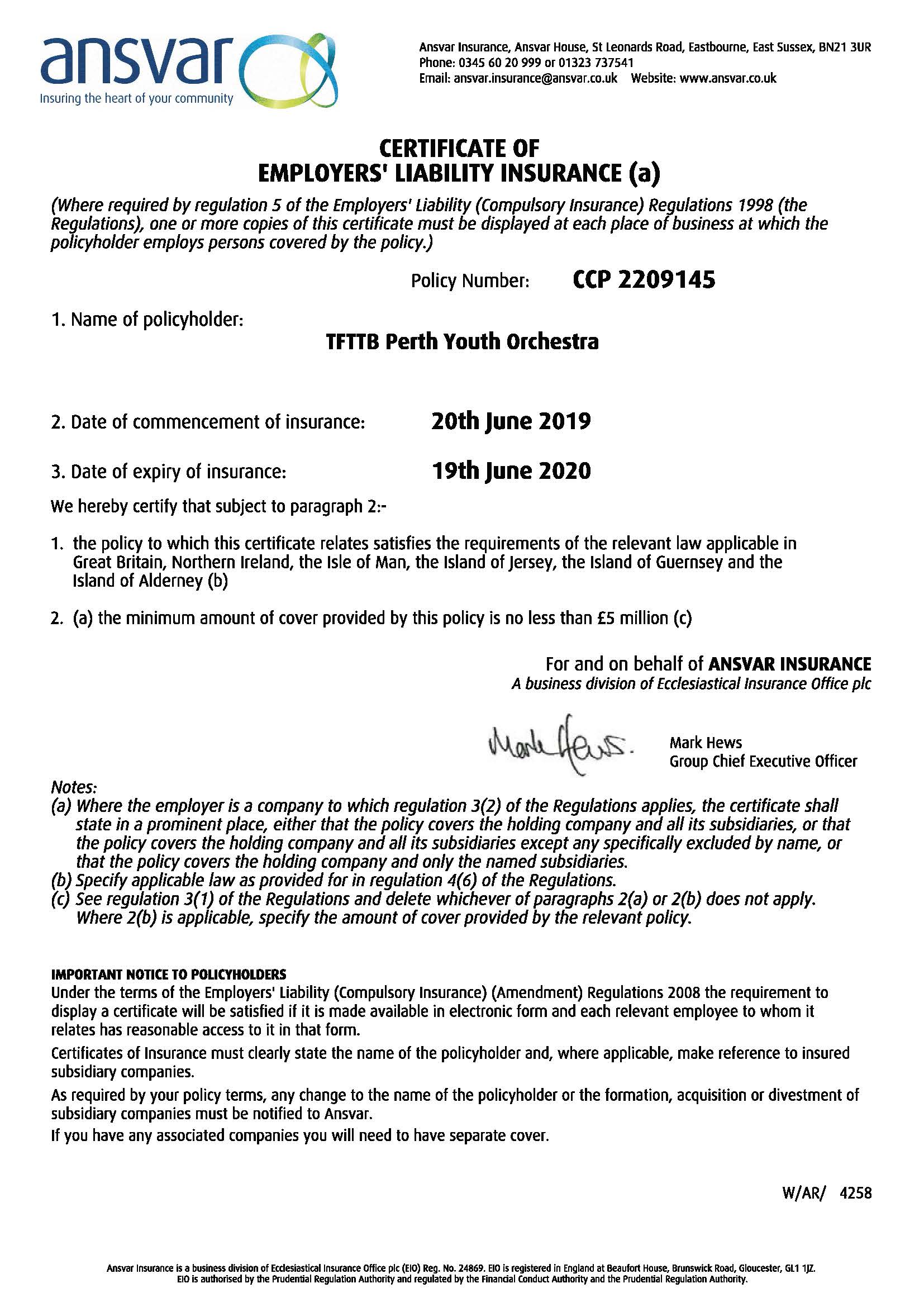 Safeguarding
Liz Edington
01828 670644
Committee posts
Fiona Drimmie,
Paul Gebara
Louise McCann
Tutor Representative
Gordon Seith
Player Representatives
Calista Donald

Conductor
Allan Young*
For website updates/ correctionsAndrew Mitchellwebmaster@perth-youth-orchestra.org.uk
* trustee