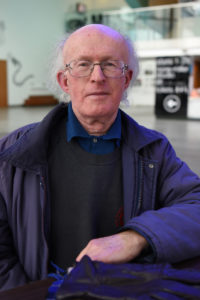 Mr Alister Allan has been appointed as an Honorary Life Member of Perth Youth Orchestra ahead of celebrations for its Diamond Jubilee in 2022.
PYO President, Susannah Rae, announced the award of the honour recognising Mr Allan's life-long commitment to the orchestra. Alister was the orchestra's first leader (1962-64); a regular soloist with the orchestra throughout the sixties; a string tutor (1968-1975) and, for in a brief but decisive year (1968-69), he was the orchestra's conductor.
That was the year the local authority ceded to growing demands to offer instrumental tuition within the schools and for a musical coordinator to be appointed.
Mr Allan said, "When it all started in 1962 there were many fewer players than we have today. Sometimes we needed to substitute different instruments and transpose the orchestral parts – like the euphonium was used in place of a French Horn. The orchestra was set up by enthusiastic music teachers and interested parents. The players had private lessons but there was none of the benefits we have nowadays where tuition is widely available and instruments can be borrowed."
"Nowadays the orchestra enjoys the benefits brought by the local authorities well-structured progression of Central Music Groups – from elementary through junior and senior groups, through to its orchestras and bands. For many years now they have been seen to be the best in the country."
Mr Allan is passionate about music. He is a member of St Ninian's Cathedral Choir, Chanson and Perth Symphony Orchestra and contributes to many other ensembles as well as local operatic groups. Whilst Principal Teacher of Music at Blairgowrie High School his saw the development of the schools' instrumental music service. In recent years he has been on the front line at protest against cuts to the service and the threat of increased fees.
"As a Life Member I look forward to starting a whole new chapter in my association with PYO. In a city famed for its musical festivals and the arts it is a great honour to be invited to serve as an ambassador for its youngest musicians."