Perth Youth Orchestra completes its 2014-2015 season with performances in both Edinburgh and Perth in the coming week. The capital's ancient Greyfriars Kirk is the setting for their Festival Fringe concert on Wednesday 26th August, at 7.30pm, before returning to Perth Concert Hall at 7.30pm, on Monday 31st.
A good evening's entertainment will open with Copland's ever popular Billy the Kid followed by soloists, Jamie Salem-Dalgety (oboe) and Neil Coe (viola), performing works by Albinoni and Bruch. Mussorgsky's Pictures at an Exhibition and Mexican composer Márques' piece, Danzon No.2 draws the programme to a fitting climax.
Perth's young musicians are used to keeping a busy schedule and, earlier this summer, members of the orchestra performed at Edinburgh Castle, at the Royal Scots Regimental Dinner, attended by the Duke of Kent, to mark the 200th anniversary of the Battle of Waterloo.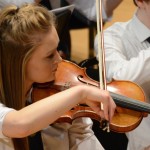 Orchestra leader, Catherine Holland, said "I've had a fantastic 6 years in PYO. The opportunities it has given to me, and the experiences I have enjoyed, will last a lifetime. If one moment were to sum it all up it would be our performance to a crowd of over 2000 in the Piazza della Signoria in Florence during our last concert tour abroad. It was an amazing occasion."
Catherine, Jamie and Neil are among 25 of Perth Youth Orchestra's senior players who are performing with the orchestra for the last time before heading off to university or into the world of work. Catherine will study Maths and Economics at Glasgow; for Jamie it's Medicine at Aberdeen while Neil is heading to St Andrews to study History.
But there is no fear that music will not continue to be an important part of their lives. Some have already signed up to Perth Symphony Orchestra and many plan an early return to the Fair City to play alongside the ranks of the Royal Scottish National Orchestra for Perth Concert Hall's 10th Anniversary Concert on Friday 18th September.
Next year sees the orchestra heading abroad to continue their well-established series of concert tours that has already taken them to Holland, Spain, France, Estonia, Poland, Germany, and Italy.
Tour-coordinator, Mr Andrew Mitchell said, "Our next destination is the Czech Republic and the excitement is mounting already. For some this will be their second tour abroad with the orchestra."
"There are still many great echoes of our performances in Italy two years ago. Prague is a beautiful city, and one with many musical connections. It is sure to be a thrilling experience for our players."
Tickets for the concerts in Edinburgh and Perth are available from the Fringe and Horsecross Box Offices.
Auditions are being held next month to bring the orchestra back up to full strength – details of how you can get an audition are here.