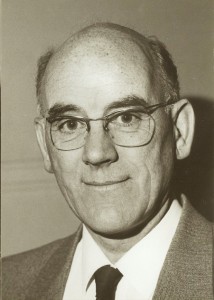 Mr D. Eoin Bennet B.E.M, Perth Youth Orchestra's longest serving conductor, has died at the age of 80. He was appointed PYO conductor in 1969 and over a period of 32 years he consistently developed the highest standards of performance and musicianship in the young people with whom he worked.
He was originally from Dundee and a former principal teacher of music at Morgan Academy. He later became a music adviser for the council in Perth – a post he held between 1969 and 1990.
Following a private cremation, a memorial service will be held in St John's Kirk of Perth (where Eoin was the organist for 37 years), on Wednesday, October 14, at 3pm, to which all family and friends are respectfully invited. Family flowers only, please, but if desired, a retiring collection will be taken for Progressive Supranuclear Palsy.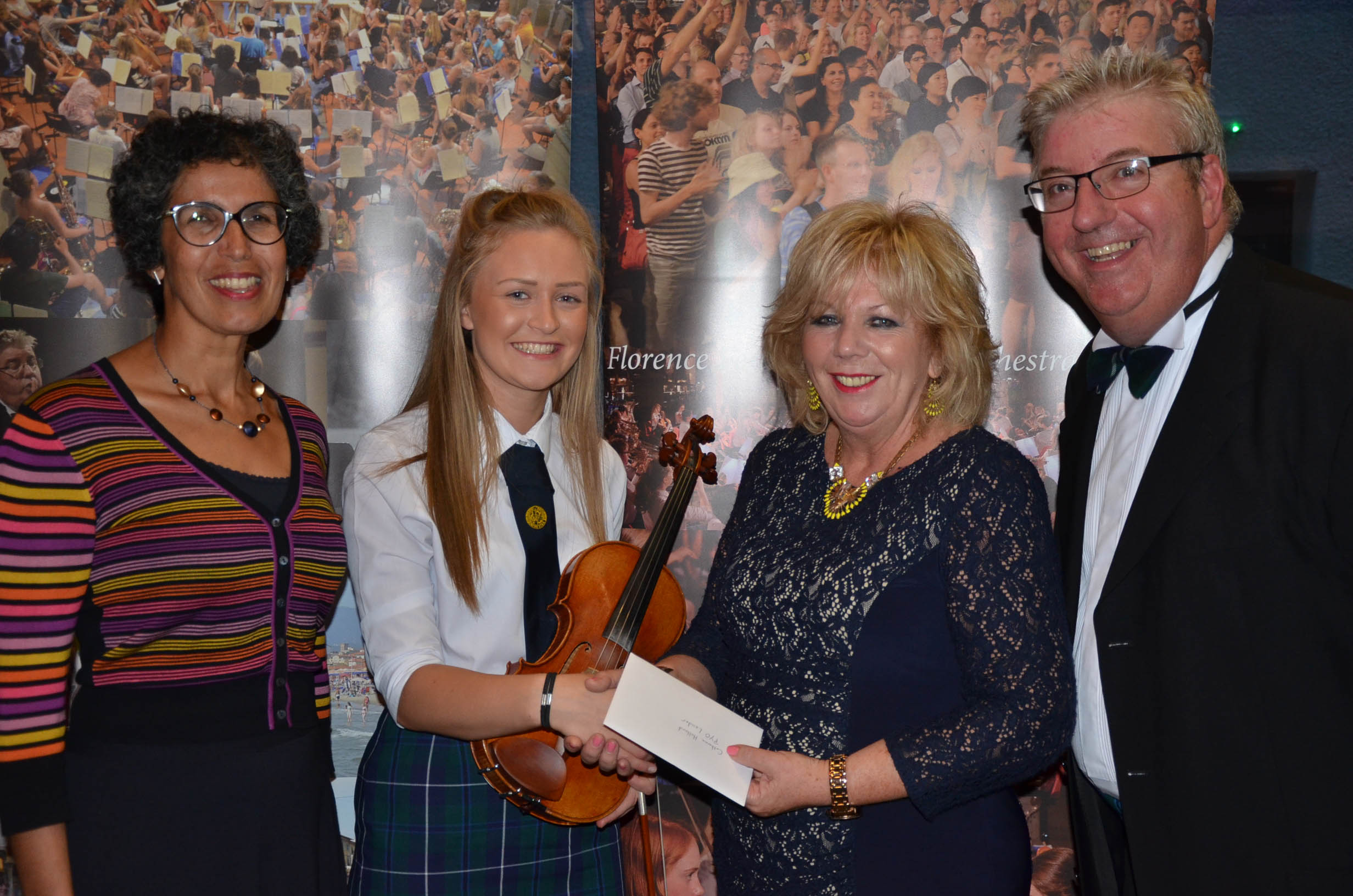 Mrs Rachel Weiss (orchestra President) looks on as the orchestra's leader, Catherine Holland, is presented with the Maggie Gorrie Leader Award by Mrs Audrey May (Education Officer) alongside the orchestra's conductor, Mr Allan Young.
Perth Youth Orchestra is in its 53rd year. Founded in 1962, by two Perth musicians, Louis Barnett and John Davie, with the support of a small number of parents, it gave its first concert on 25th June 1964. The orchestra is a registered charity in Scotland. PYO is sustained both by the young players desire to excel and by their determination to succeed.
The orchestra rehearses each Monday evening in the Music Centre at St John's Academy, Perth, from October to April, and it is well supported by Perth and Kinross Council. Perth Youth Orchestra is a registered charitable organisation and the funds it raises help to support the purchase of instruments and musical scores, as well as the services of its conductor and instrumental tutors at rehearsals and concerts- at the Perth Festival of the Arts, the Edinburgh Festival Fringe, in Glasgow at the Royal Conservatoire of Scotland, and in a variety of concerts throughout the year at home and abroad.
In July 2013 the orchestra celebrated its 50th anniversary with a concert tour to Tuscany performing at the Florence Festival of Youth Orchestras.
Parents of young musicians in Perth and Kinross are always impressed by the provision of the many Central Music Groups. But Perth Youth Orchestra is much more than just another Central Group. With the support of the Friends of PYO it has provided the opportunity for generations of the best young orchestral musicians in the area to play challenging and exciting music from the concert repertoire, performing not only in Perth but elsewhere in Scotland, and also on tour, most recently to Germany and before that in Poland and Estonia.
Admission to the orchestra is by audition, usually in September. All members can take pride in their own ability, and learn and develop their skill while expanding their knowledge of different composers and musical styles. Many former members have gone on to make illustrious careers as performers – more details are on the website.
Putting on concerts, hiring music, purchasing, insuring, and maintaining instruments, and of course organising tours, costs money, and the orchestra has an annual turn-over of around, in non-tour years, of over £8000. It is a charitable trust run by a committee made up of the Friends of Perth Youth Orchestra including the conductor, Mr Allan Young, parents of current and former members, instrumental tutors, and orchestra representatives. We are grateful to several generous sponsors from the local area, and fund-raising by the orchestra is an important and necessary source of income, especially as we start to look forward to the next concert tour, in the summer of 2013.
On joining the orchestra, families were asked to pay a fee to Perth and Kinross central groups. Membership of the Friends of Perth Youth Orchestra is an additional cost (£24) but the benefits it brings are very worthwhile
"Their achievement was astonishing – cutting edge – the real thing
Michael Tumelty – The Herald